~ Shop our newest collections ~
~ Shop our most popular ~
~ Shop our latest deals ~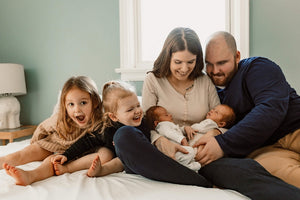 Behind the Brand
Hey you, thanks for stopping by! I'm so glad you're here! My names Courtney. I'm a mama to 4 littles; Isabella, Amelia and twins Leo and Tate, the inspiration behind my small shop. None of this would be possible without my husband Beau's support and assistance everyday.
I design every graphic piece you see in our shop. Each item is printed with love in our home in Niagara, Ontario, Canada and shipped to individuals around the world!
I also carefully choose our curated fashion pieces to provide a one-stop shop for all your apparel needs.
Your support in any capacity means the world to my family and I!